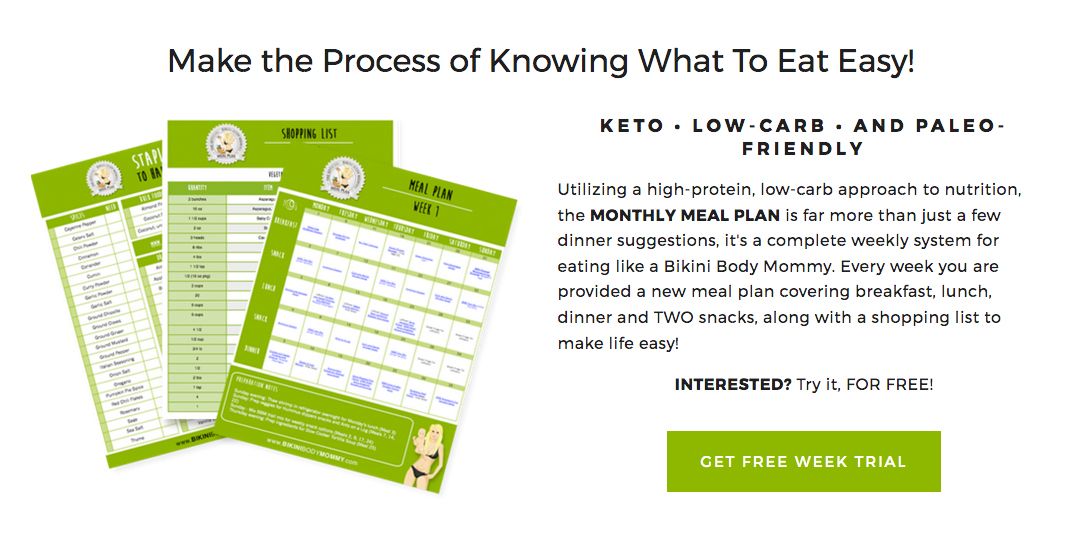 ✔️ GLUTEN-FREE • ✔️ DAIRY-FREE • ✔️ REFINED SUGAR-FREE • ✔️ BREASTFEEDING-MOM FRIENDLY
If you're going to follow the Bikini Body Mommy Nutrition philosophy you need to know at a glance what foods are approved • what foods you should avoid • what time-saving meals and snacks you should make • and what to buy at the grocery store. Lucky for YOU, that is EXACTLY what my WEEKLY MEAL PLAN is designed to do!
HOW IT WORKS: 
DOWNLOAD
 your
FREE WEEK
of the 
WEEKLY MEAL PLAN
HERE
Click below to sign up for the BIKINIBODYMOMMY™ Weekly Meal Plan!
*Please Note: The Weekly Meal Plan, along with any of the BBM Subscription products, cannot be purchased using the BBM Store Gift Cards, as these products are hosted on workouts.bikinibodymommy.com and these products only link to those subscription sign-up pages.
As a mom of four, Briana Christine is nothing short of inspiring to other mothers around the world who are struggling with their post baby bodies. Losing a tremendous 100 lbs. in less than a year, she is one of the most famous post-baby body gurus on the net. Her incredible transformation success grew her to maternal fame, and she now runs an entire body-positive fitness empire called BIKINI BODY MOMMY™ which is dedicated to helping other moms get their pre-baby bodies back. With a fool proof workout plan, endless recipe ideas and a relatable at home lifestyle, her fool-proof plan promises amazing RESULTS.
1

BIKINIBODYMOMMY Meal Plan

How To Use This Meal Plan

2

Build-Your-Own Shopping List